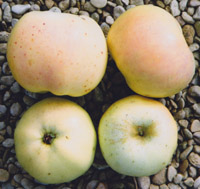 CAPTAIN PALMER An old and very good Norfolk dessert apple, of uncertain age. We were given scions by John and Helen Hempsall of Nottinghamshire, who acquired it from the old Ranworth Nursery. It came with a reported origin in 1620, but this seems an implausibly precise and early date and other modern sources put the date at pre 1900, with an origin as a seedling from Gissing, near Diss, Norfolk. It is ripe at the end of September to mid October and will still be in good, crisp condition in early December, under good storage. The uniformly rounded apple has clear skin of pale yellow, blushed with light amber. The flesh is sweet, crisp, juicy and crunchy with a very pleasing flavour.
Pollination Group 5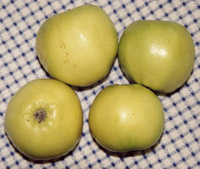 CARLISLE CODLIN A highly respected and much planted cooking apple from Cumbria. The earliest historical reference to it was in a list of Alexander Forbes, gardener at Levens Hall Nursery, Kendal, Cumberland, in 1820. Perhaps the most complete and colourful description comes from Hogg. 'Fit for use when no larger than a walnut, and after attaining their growth continuing in perfection as late as Christmas. If blanched in warm water, when used small, the outer rind slips off and they may be baked whole; their colour is then a transparent green; and their flavour is exquisite, resembling that of a green apricot. When it is about the size of a large nutmeg, it may be made into apple marmalade, or a dried sweetmeat, which rivals the finest Portugal plum'. The mature fruit is angular on the sides and flat at the base. The skin is smooth, 'unctuous' and pale yellow, with a few russet specks. The flesh is tender, crisp and juicy, 'with a fine brisk, and sugary flavour'. Abundant cropper, modest sized tree.
Pollination Group 3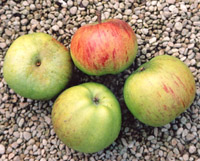 CAROLINE A dual purpose apple, dating from before 1822. It is said to have originated in the garden of the second Lord Suffield of Blickling and Gunton Hall, Norfolk and was named after his wife, Caroline, Lady Suffield. It was in the London Horticultural Society collection in 1826. The apples are medium sized, deep yellow when ripe with streaks of bright crimson, round and slightly flattened. The flesh is firm, juicy, very richly flavoured and, when fully ripe, is sweet and a pleasant dessert apple. Ripe in November and lasting to February. It has also been used as a sharp/bittersharp cider apple. Our thanks to John and Helen Hempsall for sending scion-wood.
Pollination Group 4