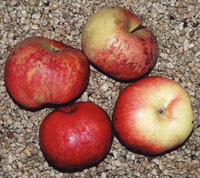 ORLEANS REINETTE First described in 1776 by the Dutch pomologist Knoop and in England before 1826. Also known as Winter Ribston. Probably originally French, and popular in Europe for cooking as it keeps its shape when cooked. The fruit has a golden skin, with a red flush and some russeting. Aromatic flesh, rather like a Blenheim Orange, but crisper and slightly richer. Attractive blossom and reputedly disease free. Scott describes it as 'top quality' and Bunyard was similarly enthusiastic; 'It is probably the sweetest dessert apple we have. An apple for the connoisseur'. We do not find it to be so sweet. Cooked, it keeps all its shape, is sweet, sharp and rich, with no need for sugar. Storing time is quite variable, according to conditions. Sometimes they last into the New Year and sometimes they soften in November. T*.
Pollination Group 5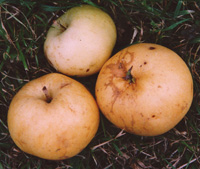 OSLIN Synonym, Arbroath Pippin. A very old Scottish apple probably introduced from France by the monks of Arbroath and thought to date back to the 17th century. The early dessert fruit is pale yellow skinned, with russet dots, and the flesh is yellowish, firm, juicy and richly aromatic. Hogg esteemed it very highly, though Bunyard was less enthusiastic. Ripe from late August but not lasting more than a few weeks. Good in cooler climates. A vigorous, upright tree with good yields. Dark stripy blossom.
Pollination Group 2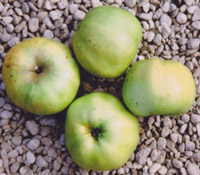 OVER APPLE Assumed to be from Over, west of Gloucester. Ripe in mid October, it has been suggested it is a sweet cider apple, but we find it a first class dessert and culinary apple.The apples are often quite large. Eaten raw they are very pleasant, crisp, juicy and sweet. When cooked the pale flesh softens well but keeps all its shape, and breaks up tenderly in the mouth. It is juicy and fleshy, beautifully sweet, modestly acid and rich. The apples make good dried slices and are excellent for tarts or pies.
Pollination Group 5