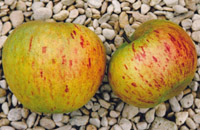 HITCHIN PIPPIN First recorded in 1896, it was listed by the King's Acre Nursery early in the 20th century. It was described by Bunyard in 1920 and exhibited from Wisley and Kent at the 1934 Apple and Pear conference. By 1946, when Taylor wrote of it, Hitchin Pippin was no longer listed by nurseries and it disappeared in the modern age. It was not to be found around Hitchin or wider Hertfordshire. Michael Clark of Tewin Orchard eventually discovered an old named tree in Kent, though it has since died. He took scions and kept it going, later providing us with a tree and some scion-wood, for which we thank him. Bunyard described it as an 'early King of the Pippins'. An early dessert apple, medium sized, with green-yellow skin streaked with crimson. Quite soft, quite juicy, (Bunyard says somewhat dry) flesh which is cream, sweet and has a good flavour. It is ripe in late August/September. The fruit is oblong, with a flattened top and base, and the skin is orange, with many streaks and flecks of bright red. It spurs freely.
Pollination Group 4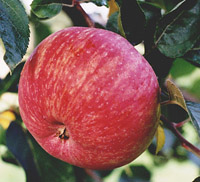 HOARY MORNING An old Somerset apple known since at least 1819. It takes its name from the hoary appearance of the skin, like that of a peach. Medium to large apples, with a greenish-yellow skin, prominently striped with deep red and with sweet, rich flesh which may be used for cooking from October but by November it has become a crunchy, very juicy and sweet dessert apple, with an unusual flavour. Keeps until spring. Good crops.
Pollination Group 4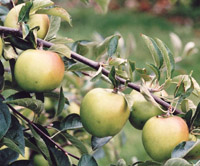 HOLLAND PIPPIN There are two distinct 'Holland Pippins' and this is the English one, of Lindley, Scott and Hogg. It was probably first recorded in 1729, though Evelyn noted it in 1664 if, as seems likely he was not addressing the Kirton Pippin, with which it has been confused. It takes its name from 'the Hollands' or the village of Holland, in Lincolnshire. Lindley's description is as good as any - above middle size, of a somewhat square figure, the eye small with a closed calyx in a narrow, regularly plaited, basin. The stalk is short and rather deeply sunk, in a wide funnel shaped cavity. The skin is yellow green, interspersed with a few green dots and tinged with pale dingy brown on the sunny side. The flesh is yellow-white, pretty firm, tender and subacid, mixed with a good deal of sugar and having a slight perfume. In use from November to January. Keeps its shape, cooked, with a rich taste. It has also been used as a cider sharp/bittersharp. The trees are vigorous with a spreading habit.
Pollination Group 5