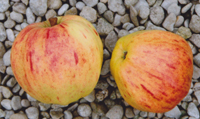 FLOWER OF THE TOWN An old Yorkshire apple, associated with the Backhouse nursery, and first recorded in the London Horticultural Society catalogue of 1826. At the 1883 National Apple Congress it was exhibited from Beachwood Gardens, Arnside in Westmorland. The 1842 London Horticultural Society catalogue described it as streaked, roundish, of kitchen use and middle quality, in use from September to November. It added 'indifferent in quality tho' a good bearer'. We find, in the South, that it is an excellent dessert apple, full of juice, sweetness and flavour. It is a medium sized, distinctly ribbed apple, with skin of yellow, heavily striped with scarlet. Our trees are from scionwood sent by John and Helen Hempsall, for which we send our thanks.
Pollination Group 4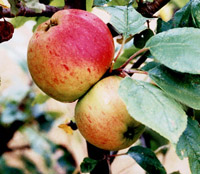 FORGE Recorded in 1851, but believed to be much older. Known as the Cottager's Apple, Sussex Forge and the Cottager's Friend, because it was used for making cider, for cooking, and then by Christmas, when it was sweeter, as an eating apple. Actually, the apples are crisp and delicious straight from the tree. The name Forge comes from its origin within the old iron working areas of the Weald, around Crawley and East Grinstead. Medium sized, handsome fruit, flushed orange and with bright red streaks. A very regular and good cropper. Fruit keeps until December, but becomes soft and the flavour changes.
Pollination Group 5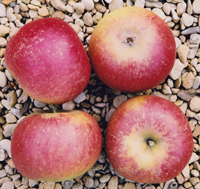 FORSYTH'S SERPENT A very old tree, now well advanced in its renewal from a fallen ancient tree, having become two new trees, 6 yards apart. It grows just 100 yards away from our nursery entrance, at a cottage once part of Wotton Estate. It was shown to us by the late Mr and Mrs Forsyth, the owners, in the late 1990s. Incidentally, Mr Forsyth was a direct descendent of William Forsyth, gardener to George III, the famed author of 'A Treatise on the Culture and Management of Fruit Trees'. The medium to large apples are brightly coloured red, with russet spots and though late to ripen they are worth the wait, becoming beautifully sweet, crisp, juicy and fine fleshed. They are also very good cooked, keeping their shape with a sweet rich flavour, in no need of added sugar. Ripe in late October, the fruit will last in good condition into the New Year. Named by us, the Serpent suffix comes from the shape of the tree when first seen. The fallen tree had bedded into the soil and the bends on the trunk, after decaying and sinking, resembled a serpent dipping in and out of water.
Pollination Group 4